About Toronto
As Canada's most populous city, as well as the Capital City of Ontario, Toronto has much to see and do for both resident and visitors alike. Surrounding the western end of Lake Ontario, the city is home to many beautiful vistas, changing along with its distinct seasons. Toronto is an international centre of business, finance, arts, sports and culture, and is recognized as one of the most multicultural and cosmopolitan cities in the world. No matter what you may be looking for, you will undoubtedly find it within this magnificent city.
Click here to search for trips and pricing. 
Here is a general idea of weather in each season: 
| | High | Low |
| --- | --- | --- |
| spring | 19℃ | 2℃ |
| summer | 26℃ | 10℃ |
| fall | 20℃ | -9℃ |
| winter | 3℃ | -14℃ |
*All weather is shown in Celsius
Stop Information
Union Station Bus Terminal
Address
30 Lakeshore Blvd W (East of Bay Street)
Toronto ON, M5J0E7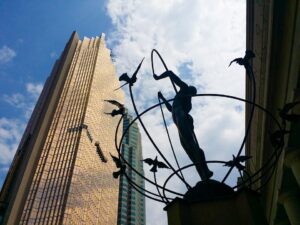 Union Station Bus Terminal
As Canada's most active transportation hub, Union Station is the ideal place to go in order to reach your destination. As such, it is the main hub for all passengers embarking or disembarking our coaches within the city of Toronto. Passengers can find a range of food, drink and shopping nearby, as well as easy connections to the rest of the Greater Toronto Area.