Our customers have come to expect an unparalleled onboard experience, featuring amenities you simply won't find anywhere else – that's what we call the Red Arrow Difference. While providing our passengers with a luxurious ride and the best customer service in the industry is important to us, nothing tops our commitment to your safety.
At Red Arrow, we're driven by safety. It is our first Core Value and is at the heart of all that we do. Any discussion about safety starts with the unsung heroes of our operation – our professionally trained drivers. We only hire the best, but we also know that there's always room for improvement.
Building on our commitment to driver development, Red Arrow's operators can upgrade their skills by using our Mobile Training Unit (MTU) – a breakthrough in virtual driver training technology.
We Introduced This Technology to the Industry
The MTU is North America's first mobile training simulator for school bus and motorcoach drivers. Utilizing the same technology that the aviation industry employs in pilot training, the MTU offers drivers a simulated driving experience that duplicates the experience of operating a variety of our buses.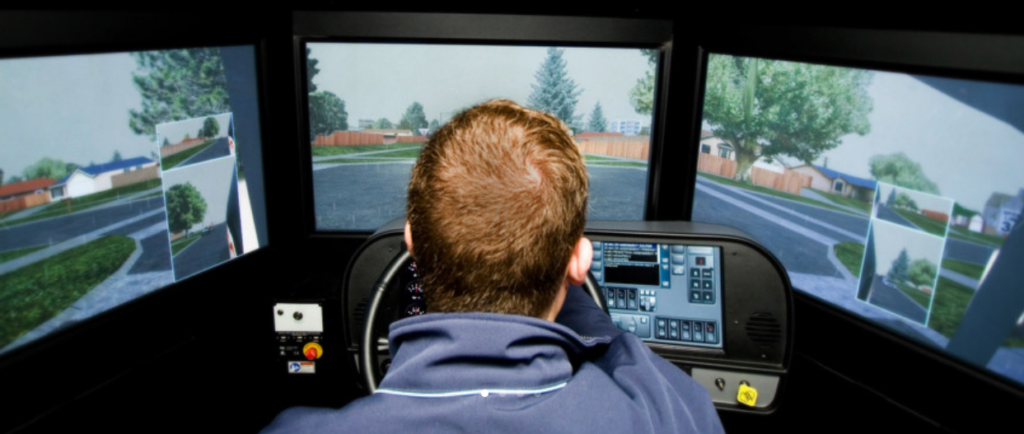 The MTU is housed in a full-sized motorcoach, with three screens that give drivers a realistic 180-degree view of the road. MTU driving modes, which include full vehicle control, accelerator, and brake applications are fully customizable and give drivers hands-on experience in several key scenarios:
Adverse weather
Driving awareness
Collision avoidance
Evasive action
High-risk situations
Situational driving
Intersections
Drivers of all Experience Levels Benefit from MTU Training
It doesn't matter if a Red Arrow driver has 10 months or 10 years of experience behind the wheel, the MTU gives them a chance to navigate a multitude of dangerous and unfamiliar scenarios. Of course, they're all simulated in a safe environment, but the experience gained is invaluable and can be applied to real-world situations.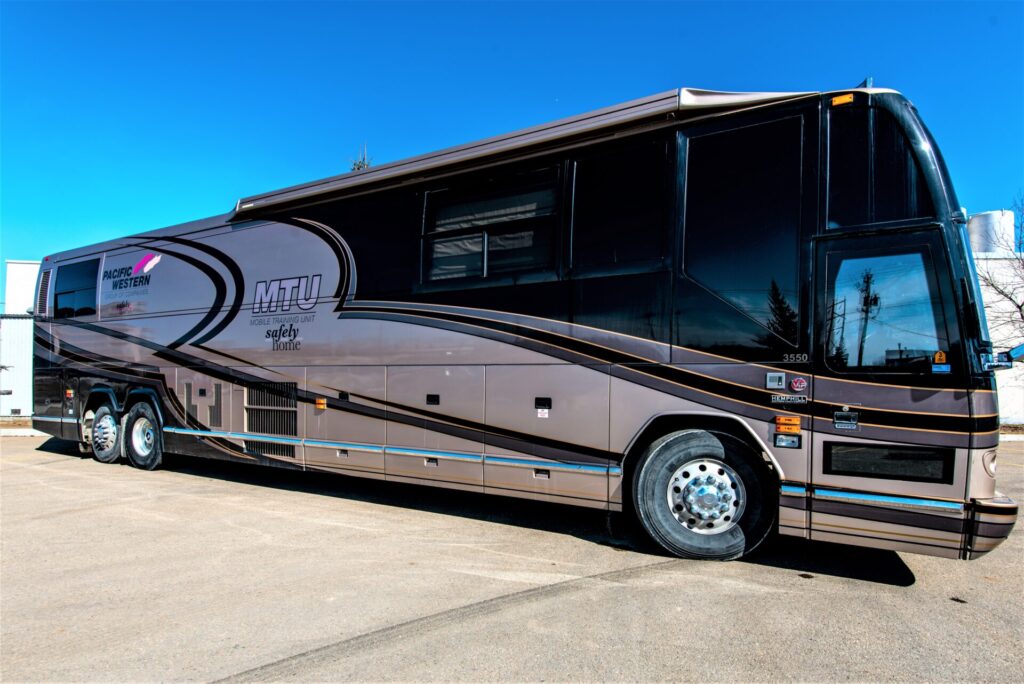 Luke LaCroix has been with Red Arrow since 2006 and has operated his motorcoach in a variety of road and weather conditions. He says theoretical situations like tire blowouts can be safely navigated in the simulator, and that can pay huge dividends if that dangerous situation presents itself in real-life highway driving.
LaCroix has been back to the MTU simulator five times since becoming a driver for Red Arrow and knows how important the training is for drivers of all skill levels.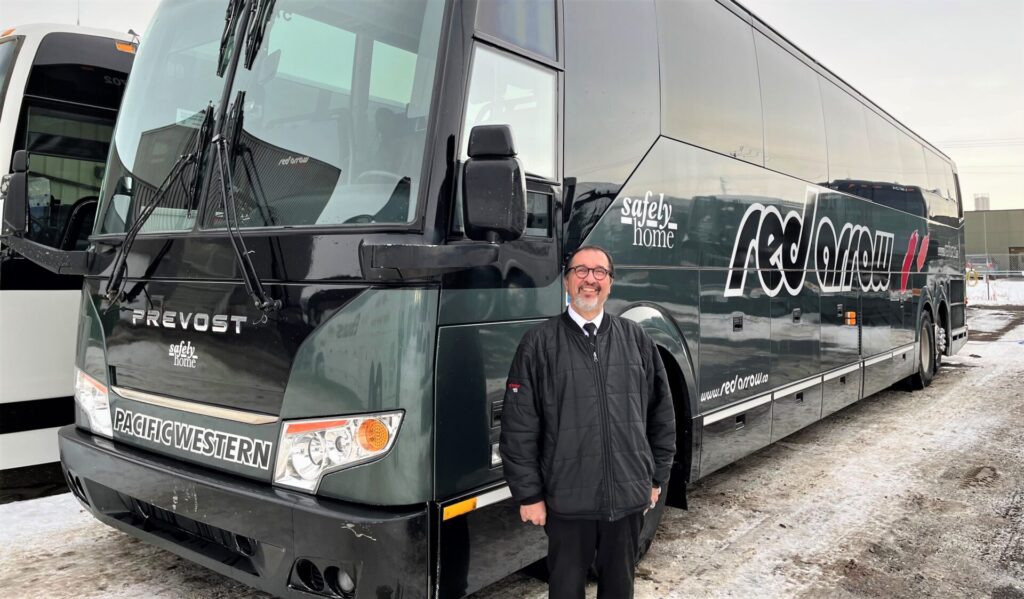 "It backs up the principles of PWT's Safely Home policy. You can't promote something that says Safely Home if you don't give the tools to your operators," says LaCroix. "You have to be able to hone your skills and have some sense of collegiality between drivers who have all been through the same training. We all benefit from the experience – not just from the software in the MTU, but from the person who is facilitating the training as well."
The facilitator that Luke LaCroix is referring to is long-time MTU instructor and driver trainer, Ron Tripke. Tripke thinks the added training the MTU program provides to motorcoach drivers is crucial to upgrading and maintaining their skillset.
"Essentially, we let them fail behind the wheel, and then we can get them to do it the correct way," says Tripke. "I think the MTU is a great teaching tool to reinforce defensive driving principles, to talk about best practices and to really stress the importance of safety out there."
The Mobile Training Unit only has room for one driver behind the wheel, but it can accommodate a total of six attendees in the classroom. They can follow the training session on multiple screens and learn from their fellow employees. Tripke can speak to the collaborative nature of the training it provides.
"I tell them to observe their fellow drivers. By observing, they also pick up some pointers. You can see what the other person did and see on the screens what they're experiencing out there. That way, the interaction can really start happening."
Your Safety is our #1 Priority
At Red Arrow, we're proud of our drivers and how they expertly navigate the sometimes-daunting routes found on our inter-city schedule – so you don't have to. The added experience and training they receive from our Mobile Training Unit help ensure they'll get each and every one of our passengers to their destination and then Safely Home.