We're celebrating Father's Day this year by looking back at R.B. Colborne's Legacy as the Father of Red Arrow.
There's no better time to celebrate the importance and influence fathers make in our daily lives than every June on Father's Day. We want to take this opportunity to recognize the founding father of Red Arrow Motorcoach, the late R.B. Colborne.
R.B. Colborne was not only dedicated to both his own family and his work family, but he was also a visionary in the transportation industry. After decades of building his transportation business, he saw a chance to revolutionize the way passengers experienced bus service in Canada. On July 9, 1979, Colborne officially launched Red Arrow Motorcoach, determined to give people a business class experience that was previously reserved for air travel.
R.B. Colborne Transformed Ground Travel Forever
There wasn't anything quite like Red Arrow's luxury inter-city passenger coaches, and Colborne ensured his bus service was ahead of its time. Single-row privacy seating and complimentary snacks pioneered the industry, giving business travelers the space and comfort to relax or focus on their work. Red Arrow was the first to offer pay-per-use cellular phone service, and our motorcoaches even came equipped with a complete business centre with a fax machine and printer.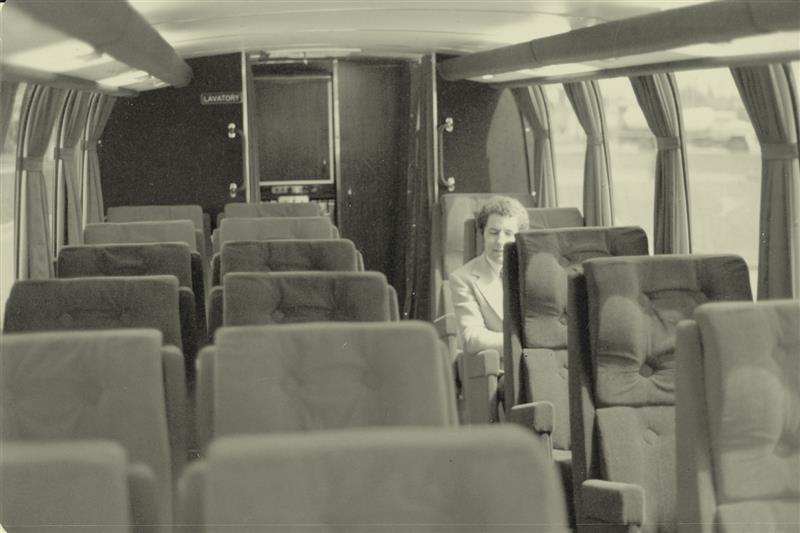 As Colborne grew the company, he made sure his motorcoaches remained on the cutting edge of innovation, and we continue to honour that vision and legacy. Focusing on a luxury passenger experience, Red Arrow continues to improve and adapt to the times. Today, we offer reclining leather seats, fold-down tray tables, onboard entertainment, USB charging ports, free Wi-Fi, and of course, our complimentary snacks and drinks.
Colborne's vision for ground travel also included the idea that every traveler has a fundamental right to access our service. The entire Red Arrow fleet is fully accessible for people with different levels of mobility. Our platform lift system ensures that wheelchairs, scooters, and mobility aids call all be accommodated on our motorcoaches.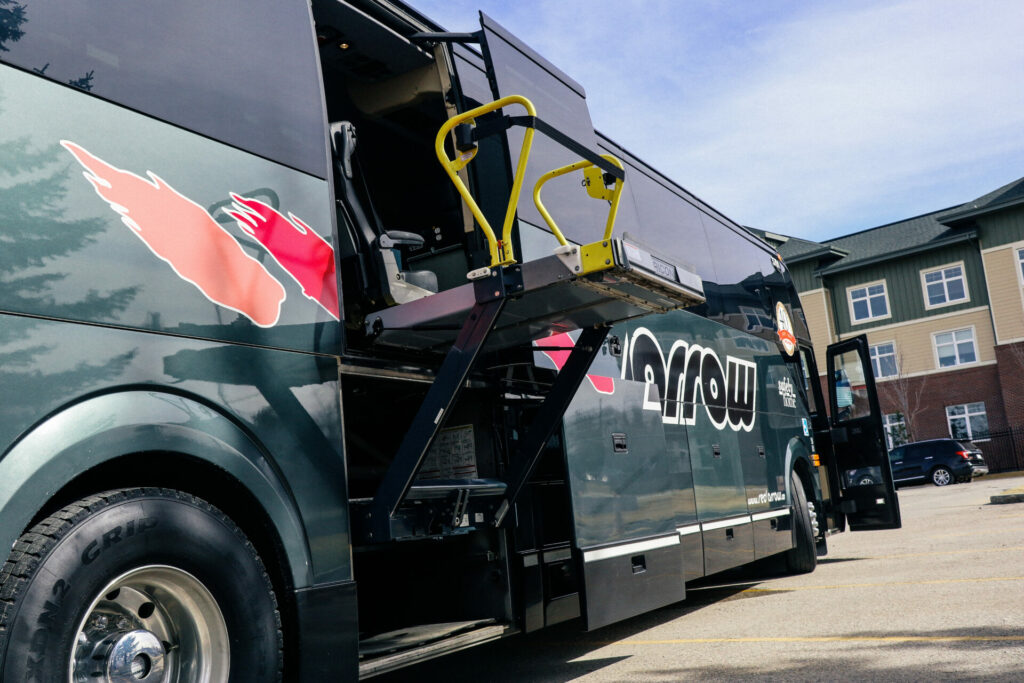 As the head of the Colborne clan, R.B. took great pride in his family and how they followed his lead, carrying on the business he founded. We think he'd also be very proud of how his commitment to offering outstanding amenities, a unique onboard experience, and passenger safety lives on to this day.
Colborne's Early Life Shaped His Vision for Red Arrow and Pacific Western Transportation
R.B. Colborne was born in Calgary on January 11, 1927 and remained a proud and dedicated Albertan his entire life. After graduating high school, he enlisted in the Royal Canadian Air Force at the tender age of 17. Colborne wasn't called into active service, but his training instilled a passion and commitment to safety.
In 1946, he attended the University of Alberta and started working for General Motors Acceptance Corporation in 1949. By the age of 29, Colborne had already purchased Wetaskiwin Motors and was well on his way to building a transformative company.
In 1957 he purchased Sorenson Bus Lines, which we now know today as Prairie Bus Lines. This became the founding company of the Pacific Western Group of Companies. Colborne started Diversified Transportation in 1964, which was introduced as employee transportation specifically for workers getting to and from sites.
Colborne's Legacy Lives on Today
R.B. Colborne passed away in 2012 at the age of 85, and his son Michael became the Chairman and CEO.
Those who knew Colborne personally described him as a kind, generous, and compassionate individual. These traits not only made him a great father, but they also helped Red Arrow and the Pacific Western Group of companies become a leader in the people transportation industry.
All fathers deserve a tip of the hat on their special day. Here at Red Arrow, we want to pay a special tribute to the memory and legacy of R.B. Colborne – the father of the company and a true pioneer who transformed the passenger transportation industry.