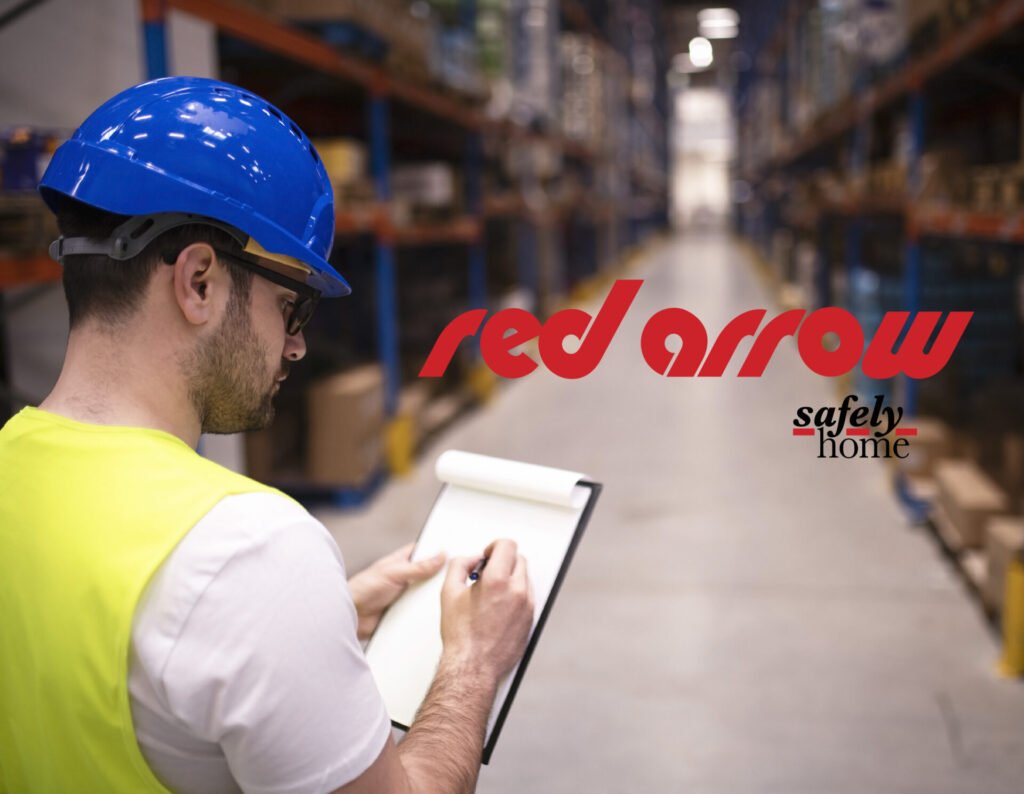 At Red Arrow/Ebus and the entire Pacific Western Group of Companies (PWT), Safety is our first Core Value and at the heart of all we do. Safety is so deeply ingrained in our everyday processes and procedures that sometimes we forget to share just how much of our time, effort, and resources go into ensuring our passengers get Safely Home.
For instance, did you know that PWT holds an Annual Safety Conference? This much-anticipated yearly event allows management and operations personnel across our divisions to get together to discuss Safety, share best practices, and celebrate our world-class Safety culture. These annual conferences further solidify our ongoing commitment to Safety, with a line-up of collaborative workshops and keynote speakers – to take away innovative techniques that will allow us to continuously improve our employee's knowledge and our Safety standards.
This year, Brian Wood, Operations Supervisor for Red Arrow and Ebus, delivered a compelling presentation about Collaboration and Communication in Safety, alongside other division managers. Today, we're sharing Brian's tips on our own Safety practices, and you may even find a few ideas to incorporate into your workplace.
Preventing Collisions
Of course, almost all collisions are preventable. But what we don't always consider is that collision prevention starts even before getting behind the wheel. Here are a few key takeaways that will set you and your employees up for success:
Remember, a personal pre-trip "inspection" is as essential as a vehicle pre-trip.

Proper nutrition is vital, and you may not even feel the effects that things like low blood sugar have on your mood, behaviour, and concentration in the workplace. Make sure everyone is eating enough, especially yourself.
Mental health is always important. If you're not at your best, you won't drive your best. Finding ways to incorporate calming exercises into your morning routine before work will start you off on the right foot.

If you're a manager, check in on your people. Keep them informed on resources available to them to seek mental health assistance.
Make adjustments where possible:

Be sure to review your policies and procedures continuously. Re-evaluating the day to day procedures, identifying changes, and reporting them to your supervisor when you see them

If you're the person responsible for creating and updating these policies and procedures, ensure that you and your employees are familiar with them when changes are made. Communication is the most critical aspect of change, and it is often overlooked.
Preventing Injuries
Preventing injuries is essential for operational success and starts with communication and awareness. Let's dive into a few of the ways we prevent injuries in our workplace:
Positive reinforcement of safe choices by employees. If you see people following safety protocols, be sure to reward that.

It can be as simple as verbal recognition when you see someone completing a safe act or running safety awareness campaigns that yield monetary rewards.
Ensure you're monitoring employees' use of personal protective equipment and empowering them to watch for others.

Nobody can be everywhere at once, but if you invite your workforce to act as safety ambassadors, you will reduce your injuries in the workplace. The old adage, "I need a second set of eyes," rings true here; imagine having eyes all over the place – looking out for the Safety of yourself and others
Ensure your team has up-to-date training, and always offer advice.

Are they still following everything they learned? If they have returned from a leave of absence, or it's been a while since they have been behind the wheel:

Be sure to offer them a refresher course or a ride-along. Ride-alongs to monitor how drivers are doing, are they making good choices or have they developed bad habits.
Identifying gaps in training is an important aspect of injury prevention. Even with endless preventative measures in place, injuries happen. Knowing how to deal with injuries is critical, and it starts with communicating the protocols.
Encourage injury reporting, no matter how seemingly insignificant it needs to be brought to attention.
Receive all reported injuries with positivity, not reprimand. Creating an environment where employees feel safe coming to you with their incidents and concerns will lead to accurate reporting numbers and safer workplaces.
Always be aware. Injuries can happen when you least expect them. A simple fall from a chair could seem minor and turn major with something like an unattended concussion.
Tracking Safety
Setting goals and keeping track of them is critical when evaluating your organization's safety reputation. We use KPIs (Key Performance Indicators) as we recognize the value in measurement and reporting. It keeps everyone accountable (another Core Value!) and allows us to determine where we need to allocate our energy, driving change.
KPIs give instant results/feedback to see how you're doing
Start believing that your KPI numbers can be achieved, and others will follow your lead
KPIs are not just numbers that we use to compare stats, it's a launching pad for constructive feedback
KPIs unify employees toward a common goal
KPIs make everyone accountable for performance
Bringing it Safely Home
When it comes down to it, communication is one of the most significant parts of effectively delivering workplace Safety. You can have the best-written policies and the most thoughtfully planned procedures, but you won't see results if your teams don't know about them. Engage with your people, be present, pay attention, follow up, and be safe.
The above strategies are just the tip of the iceberg of what was covered during the 2021 Safety Conference. Taking the time to learn best practices from our fellow transportation professionals is an invaluable experience that we look forward to each year.
Red Arrow's Safety journey is constantly evolving. Our teams have learned to be fluid and adapt to the ever-changing safety landscape we are operating within. This learning, adapting, and responsiveness to change allows us to remain the industry leaders in transportation Safety and getting our passengers Safely Home.