About Scarborough
Located atop the Scarborough Bluffs in the east of Toronto lies the district of Scarborough. Characterized by its beautiful natural landmarks and rich multicultural presence, this former city now exists as a suburb of the Greater Toronto Area. Host to a wide range of large corporate headquarters, Scarborough is known as an economic powerhouse within Ontario, featuring some of Toronto's safest and most diverse neighborhoods.
Visitors to the area can enjoy a plethora of attractions, including the Toronto Zoo, various shopping outlets, beautiful natural vistas, and much more.
Click here to search for trips and pricing. 
Here is a general idea of weather in each season: 
| | High | Low |
| --- | --- | --- |
| spring | 19℃ | 2℃ |
| summer | 26℃ | 10℃ |
| fall | 20℃ | -9℃ |
| winter | 3℃ | -14℃ |
*All weather is shown in Celsius
Stop Information
55 Town Center Court
Address
55 Town Centre Court, Scarborough, ON M1P 4X4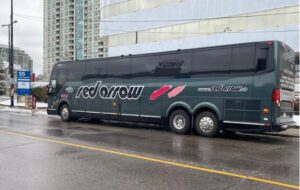 Our Scarborough stop is located within the easily accessible Town Center Court. The stop is exactly in front of a sports bar called Saint Luis. Passengers can find a range of restaurants and cafes nearby as well as shopping within the affluent Scarborough Town Center.